Catering at Columbus Conference Centre
The Columbus Conference Centre has partnered with Executive Chef Derek Hines of Boutique Catering as our in-house catering partner.   Chef Derek is committed to ensuring your special day is realized for you and your guests by creating a meal that is elegant and made only with fresh ingredients and the greatest finesse.   Chef Derek will meet with you regularly to discuss the menu and to cater to any special needs.
Food Menu:
Derek can cater to any health requirements and menu options as requested.
Bar Options:
Wines, beers, liquors as requested.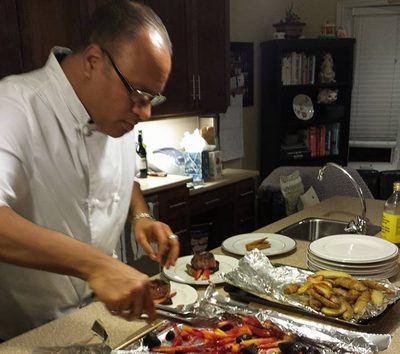 "Nina and I came to Derek Hines to create a menu for our wedding reception. We were familiar with his food from a local restaurant where he cooked, and enjoyed his creativity and passion in his culinary creations. We had a total of 150 people invited to our reception. Derek insisted on regular meetings with tastings to insure the menu was well rounded and exciting and most importantly, that we liked every item on the menu. With such a challenging guest list consisting of cultural backgrounds ranging from Norway to Argentina, Derek was a star! He took into account the diversity and highlighted the menu with dishes that incorporated signature tastes from each country. The food was a hit and to this day we all still talk about how good it was. From Champagne soup starters to the strawberry shortcake dessert, the food was delicious. Nina and I can't recommend Derek enough"